Charlie Chaplin (1889 - 1977)
Charles Spencer Chaplin was born in London in 1889. He had a hard childhood due to the fact that his father was an alcoholic and died soon and his mother was mentally ill. In addition they were normally short of money and Chaplin had to be sent to a workhouse twice. His parents were both artists, which influenced Chaplin's future. He started performing at an early age, working in theatre as a comedian. When he was 19 he joined the important Fred Karno Company, which gave him the opportunity to tour America.
In America he soon started work in the cinema industry. He signed for Keystone Studios. It was at that time it was when he developed "the Tramp persona" , his most popular character, dressed with baggy trousers, bowler hat and his trademark moustache. He also began to direct his films and by 1918 he was really successful and one of the best known people in the world.
In 1919 he co-founded United Artists which gave him complete control over his films. During the boom of sound films in the thirties he prefered to keep making silent films, although he was afraid of this decision because he didn't want to be an old-fashioned artist, but he succeeded again with most of his best films such as City Lights and Modern Times. He later started making sound films with another of his hits, The Great Dictator.
After this time he was controversial in his personal life. He was accused of being a communist and he had also a paternity scandal. The first thing especially, forced him to leave the USA and start living in Switzerland where he spent the rest of his life.
Chaplin is one of the most important icons of the seventh art. Some of his works, The Golden Rush, City Lights, Modern Times and the Great Dictator are already ranked high in the list of greatest films in cinema history. He was a perfectionist who wrote, directed, produced, edited, starred in, and composed the music for most of his films. He never shot from a complete script, normally improvising during the shooting, frequently reshooting a complete scene and if he was lacking of ideas he often took a break to think which could last for days, keeping the studio ready for Chaplin's inspiration. All this was possible thanks to his financial independence that allowed him to spend years producing a film. He was a Master; mixing humour with social and personal matters such as greed, immigration, illegitimacy, drug use, etc. It is also said that many of the films stories had a auto-biographical background. He showed many catastrophes and although his character is badly treated, his "Tramp" always remained kind with dignity. he also showed this optimistic view at the end of some of his silent films with the homeless and lonely Tramp walking happlly into the sunset to continue his journey.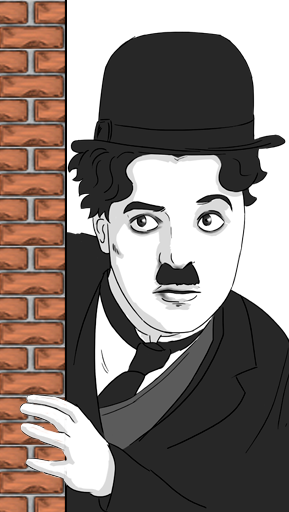 Level B2: Upper Intermediate