Paparazzi - Lady Gaga
LADY GAGA (1986 - present)
Lady Gaga, is an American singer, songwriter, actress, record producer, and activist.
Born and raised in New York City, she primarily studied at the Convent of the Sacred Heart and briefly attended New York University's Tisch School of the Arts before withdrawing to focus on her musical career. She began performing in the rock music scene of Manhattan's Lower East Side, and was signed with Streamline Records by the end of 2007. During her employment as a songwriter for the record company, her vocal abilities captured the attention of recording artist Akon, who signed her to his label Kon Live .
Distribution. Influenced by David Bowie, Michael Jackson, Madonna, and Queen, Lady Gaga is recognized for her flamboyant, diverse and outré contributions to the music industry through her fashion, performances and music videos. She has sold an estimated 23 million albums and 64 million singles worldwide and her singles are some of the best-selling worldwide. Her achievements include five Grammy Awards and 13 MTV Video Music Awards.
by Wikipedia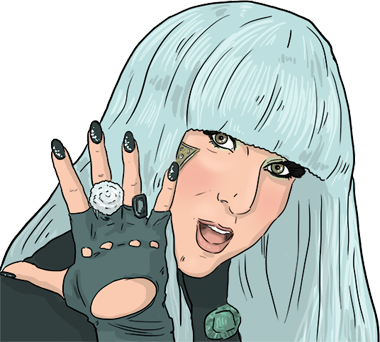 GLOSARY
Crowd: a large number of people gathered together

ex: dissapear into the crowd

leather: a material consisting of the skin of an animal made smooth and flexible by tanning, removing the hair.

Ex: My sister has a pair of high-heeled black leather boots

"cuz" = becouse
kind: having a friendly or generous nature or attitude

ex: Your kind e-mail was greatly appreciated

Velvet: a fabric of silk, cotton, nylon, etc with a thick close soft usually lustrous pile

ex: This pillow has the texture of velvet.

Eyeliner: a cosmetic used to outline the eyes

ex: eyeliner pencil to create definition around your eyes.