Diamonds - Rihanna
Rihanna (1988 - present)
Robyn Rihanna Fenty (born February 20, 1988), known by her stage name Rihanna , from the Welsh name Rhiannon, is a Barbadian recording artist, actress, and fashion designer. Born in Saint Michael, Barbados, her career began when she met record producer Evan Rogers through mutual friends in late 2003 and recorded demo tapes under Rogers' guidance. Her demo tape was sent to several record labels and she subsequently signed a contract with Def Jam Recordings after auditioning for its president, rapper Jay-Z. Rihanna's debut and second studio albums, Music of the Sun (2005) and A Girl Like Me (2006), peaked in the top ten on the Billboard 200 chart. Both albums incorporated elements of pop, reggae, dancehall, and R&B, which spawned the Billboard Hot 100 top two hit single "Pon de Replay" and her first Hot 100 number-one "SOS".
By wikipedia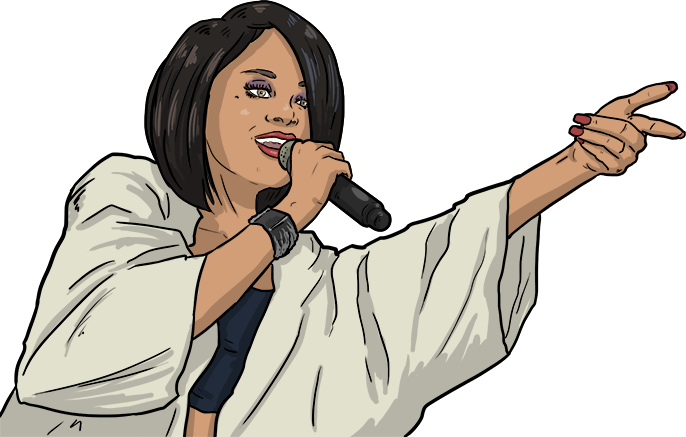 GLOSSARY
Shooting star = falling star, an informal name for meteor.

Ex: If you see a falling star, make a wish!

Ectasy: a state of exalted delight, joy, etc.

Ex: The dog was in ecstasy when they arrived home, wagging his tail.

Hold on (v): to have or keep (an object) with or within the hands, arms, etc.

Ex: Hold on your wallet. There are thieves around here.

Alive (adj): (of people, animals, plants, etc) living; having life.
Right away: immediately.

Ex: Yes sir! I'll do it right away.

Eye to eye (idiom): In agreement, have the same opinion about something, agree

Ex: I've never seen eye to eye with my mother-in-law.

Palm (n): the inner part of the hand from the wrist to the base of the fingers.

Ex: The gipsy offered to read my palm and tell my fortune.

Moonshine: US Canadian illegally distilled or smuggled whisky or other spirit.

Ex: The farmer was making moonshine for the party.

Molly (n): a nickname for MDMA, compound used for "Ecstasy".